ARIZONA MAPS . . . AND MORE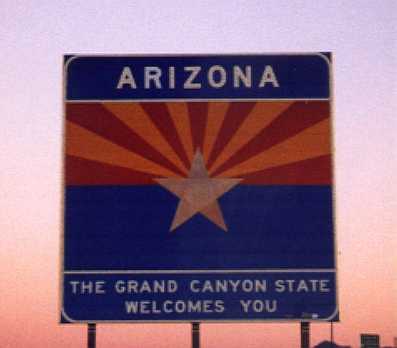 Arizona Guide - There's no place on earth quite like the Grand Canyon State. It's not just our landscapes, which take in tall mountain ranges, swift rivers, grasslands, sand dunes, and cactus forests. It's not just our storied past, which reaches back thousands of years. It's not just our people, a vibrant blend of cultures and traditions. It's all these things, and the way they come together, that make a visit to Arizona a truly unforgettable experience.
Arizona Highways On-Line - A monthly magazine discussing the highlights of AZ.
Arizona Precipitation Map - Annaul average precipitation in AZ.
Arizona State Parks - These links will take you on a tour of the crown jewels of the State of Arizona.
Arizona Traffic Information - Highway restrictions, road construction and schedules, live cam shots, etc.
Assessor's Interactive Maps - If you need a map of a neighborhood, a town or more- this is the site for you!
Auto Pilot - Trip Itinerary - Use our unique trip planner for free and get a personalized road itinerary.
Biking Trails - If you're biking, you'll love this site for information on weather, parks, tourism, clubs, dealers and scenic views. We have 3 new departments: Divas Site, Tour Stop and Ask the Mechanic. The Divas Site is for, about, and by women motorcyclists. It will feature stories on group rides, articles on safety and riding skills, photos, and anything else of interest to this rapidly growing segment of the motorcycling enthusiast world. Tour Stop is a collection of helpful information about everything you need to tour; Ask the Mechanic gives you a chance to ask experienced motorcycle technicians questions about your bike. You can submit questions via email to mechanic@swbike.com. Then look for answers in Ask the Mechanic. We will update the pages every few days, so check back frequently.
Earth View - You can view either a map of the Earth showing the day and night regions at this moment, or view the Earth from the Sun, the Moon, the night side of the Earth, above any location on the planet specified by latitude, longitude and altitude, from a satellite in Earth orbit, or above various cities around the globe. Images can be generated based on a full-colour image of the Earth by day and night, a topographical map of the Earth, up-to-date weather satellite imagery, or a composite image of cloud cover superimposed on a map of the Earth, a colour composite which shows clouds, land and sea temperatures, and ice, or the global distribution of water vapour. Expert mode allows you additional control over the generation of the image.
GlobeExplorer - See your house from outer space!
Google Maps of Arizona - 100s of Arizona maps to view
How Far Is It? - This service uses data from the US Census and a supplementary list of cities around the world to find the latitude and longitude of two places, and then calculates the distance between them (as the crow flies). It also provides a map calculating the distance between two places, using the Xerox PARC Map Server by putting in the addresses.
Lakes and Recreation - SRP is one of a group of agencies involved in water management: It operates the dams to provide water and power, the U.S. Forest Service operates a variety of recreation sites and marinas, the Arizona Game and Fish Department manages the wildlife and county sheriff's offices helps protect these facilities. Bartlett Dam, Granite Reef Diversion Dam, Horse Mesa Dam, Horseshoe Dam, Mormon Flat Dam, Roosevelt Dam & Stewart Mountain Dam.
Map Blast - Great site for maps of all types: traffic maps, city guides, world atlas, yellow pages, white pages, encyclopedia and weather.
Map of Tribal Lands - Arizona Commission of Indian Affairs presents news of all the Indian tribes, where they are located and their history
MapQuest - If you're not sure where you're headed, click onto MapQuest and get driving directions from your location to anywhere you want to go in the US.
Our Canal System - SRP's 131-mile main canal system is a familiar sight to many Valley residents. The primary use of these waterways is to bring domestic and irrigation water to the Valley. However, most canal banks are also open for walking, jogging and bicycling as long as these activities don't interfere with the canals' ability to deliver water.
Phoenix Metro City Guide - Your map and guide to: getting around town, travel agencies and clubs, the arts, museums, attractions, points of interest, travel agencies and much, much more!
Roadtrip America - RoadTrip Planning: Maps, Books, Destinations, Tips & More!
Trails.com - The Web's center for professional and recreational map users.
Contact us for a free market analysis of your home: