Christmas: December 25th

On Christmas Eve - Track Santa's route as he delivers his presents to the good boys and girls around the world with Norad: Santa Tracker

Santa Search - Explore the largest elf-edited Christmas resource on the Internet! Besides tracking Santa on Christmas Eve, come enjoy Santa's Journal, write a letter to Santa and listen to lots of your favorite Christmas songs.
Countdown 'til Christmas - Count the months, days, minutes, hours, and seconds til Christmas!
123Greetings.com - Free e-cards! Christmas is the season to look forward to! Love, togetherness and friendship come together to make a perfect blend on Christmas to strengthen ties and bind the people you know and cherish in a bond. Convey your wishes with a message from your heart and here is wishing them a very Merry Christmas.
Santa's - A Christmas Park - Coming November 16th, 2005 - Over 50 rides, hundreds of attractions, millions of lights, a lifetime of memories! Santa's Park Directions: I-10, Wild Horse Pass, Firebird Raceway, Gila River (Indian Community).

"SANTA'S PARK" IS COMING TO TOWN - Holiday-Themed park offers rides, food & holiday fun for the whole family!

This fall, Arizonans can experience a holiday extravaganza like never before, as one of the largest holiday-themed entertainment parks makes its debut in the Valley – SANTA'S – A CHRISTMAS THEME PARK! From November 16 until January 8, Santa and his crew will park their sleigh at the Firebird Raceway, where visitors can experience a magical world of glittering lights, breathtaking rides, delicious food and engaging performances. "We're very excited to be bringing this wonder-filled event to Arizona," said Danny Brand, Santa's CEO and General Manager. "The holidays tend to create a special feeling and we want to capture that feeling for as long as possible – before, during and after family festivities."

Located at 20,000 Maricopa Rd. in Chandler, the park is more than a mile in length and features a spectacularly-lit Holiday Fantasy Walkway entrance with thousands of festive LED lights.

Once inside the park, guests can enjoy Santa's Christmas Village with 23 Christmas fantasy themes, each with life-sized buildings and animated characters; more than 50 amusement park rides; 12 free entertainment shows each night featuring puppets, live magicians, white tigers, music and much more; a serene nativity set featuring life-size Fontanini figures as displayed in Vatican City; a giant, gas-lit Menorah; a 74-foot LED lit centerpiece Christmas tree and 20 themed trees 33-feet tall. In addition, guests can enjoy live entertainment, ethnic food from around the world and special VIP tents for corporate holiday parties, birthdays and family gatherings.

The park will be open Monday – Thursday from 4 p.m. – 12 a.m. and Friday-Sunday from 4 p.m. – 1 a.m. Ticket prices are $23 for adults and $18 for seniors and children under 10 years of age. Ticket prices include all performances and park rides. Tickets can be purchased at the park. For more information on Santa's Park, please call (480) 247-9591 or visit www.visitsantas.com. For media information, please contact Michelle Zimmerman (480) 317-6072 –direct or michelle.zimmerman@rrpartners.com.
Ben and Jerry's Winter Holidays - Crafts, games and links to many other fun sites!
Billy Bear Says Merry Christmas! - Lots of Christmas games and puzzles, Santa's Post Office, sticker fun, Christmas crafts, advent calendars and much more!
Boy's Happy Holidays Page - Beginning with planning for the year's Snow Village through the last verse of Auld Lang Syne, you will find no one with a bigger smile or a warmer heart than Boy. From the smallest ornament to the grandest pageant, every ingredient of the season is reason for him to make room for more good cheer. We wish you the same magical feeling during this season and a beary merry Christmas. You'll have lots of fun with all the games, holiday traditions, gifts and learning about the Spirit of the holidays.

Christmas Activities - is a fun site for coloring pages and lots of Christmas activities.
Christmas Around the World - Here are some Christmas activities from The Courier-Mail/Headstart "Christmas in the Classroom Kit". Keep an eye out for the new Courier-Mail Teachers' Kit, "Christmas Around the World" due out soon.
Christmas Central - Your Guide for Christmas - All about Christmas, Christmas printables, Christmas wallpaper and clipart, games, crafts, recipes, Christmas Safety, holiday gift guide and lots of fun online!
Christmas Crafts and Activities - Lots of links to some Christmas crafts & activities to keep you and/or the kids occupied during the Christmas season.
Christmas Holiday Fun at Kids Domain - Welcome, and come celebrate the holidays with everything from crafts and online games to coloring pages and eCards.
Christmas Screen Savers - Lots of fun Christmas screen savers - for free.
Christmas Trivia Quiz Play our quizzes on-line, or download them for off-line use!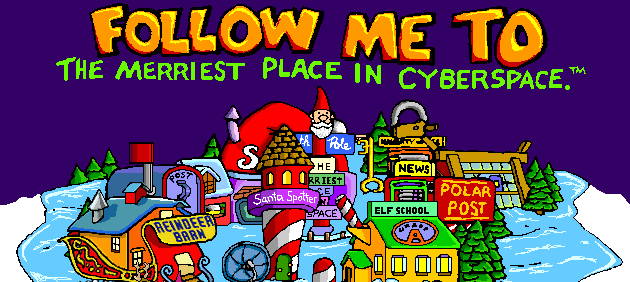 Claus - The Merriest Place in Cyberspace! - Santa Claus is really excited you've come to visit, and he has the North Pole Village full of fun things to do for both kids and parents, including lots of new things this year. Check your Naughty or Nice rating. Choose your very own Elf Buddy. Play games in Elf School. Print your Honorary Elf Diploma. Sing along with new original Christmas songs. Try funny holiday recipes. Visit the amazing Toy Workshop. Send E-mail to Santa Claus. Follow Santa Claus in his sleigh on Christmas Eve. See how many cookies Santa Claus eats on his trip. Wonderful illustrations and a creative family experience. CLAUS.COM is one of the top-rated Santa Claus websites and is known around the world.
DLTK's Crafts for Kids - Wonderful Site! Crhristmas coloring pages, Christmas crafts, greeting cards, online games and puzzles, plays and songs, Christmas printables (bookmarks, gift bags, worksheets, writing paper and more!), Christmas recipes, Santa Claus clipart and web backgrounds, links to other Christmas sites, and more.
Holiday Fun - Printable Activities - Printable puzzles, coloring pages, and activity sheets just for you! Plus - lots of links to other Christmas printable activity sites.
Holiday Zone - Links to online Christmas books and stories.
Home for the Holidays - Santa's workshop, stories, Santa's Kitchen, the Nativity and more!
House of Hugs Christmas Activities - Games and songs sung to familiar children's tunes.
Kate's Have Yourself a Merry Little Christmas Page - Holiday Wallpapers and Screensavers; holiday gift tags, and links to lots of other holiday sites.
Kids Domain - Holiday Fun - is chalk full of fun! Send a letter to Santa, PC and Mac Downloads, send an e-card, crafts, online games, holiday graphics, word search, coloring, mazes, puzzles, party games and activities, Around the World and Christmas Music.Also, stories to read online, recipes software reivews, nativity links and Christmas links.
Kinderstart Holiday Activities - Links to lots of Christmas sites with games, music, activities, etc. - Great site!
Merry Christmas from Teachers First - Merry Christmas from TeachersFirst. This is the season when Christmas web sites are everywhere. We've tried to avoid the ads and ugly artwork, selecting sites and resources which will help your students understand the history of the Christmas celebration and the variety of ways in which Christmas is celebrated in different countries and cultures. Along the way, we've collected some crafts and activities to keep students attentive at a time of the year when paying attention can be a little difficult.
Merry Christmas - Kid's Zone - Hey Kids! Looking for something fun to do? Take a look in this area for some fun things that you can do for the holidays: Activities, games, coloring books, gift tags, interactive kids stories and poems and e-mail Santa!

Merry Christmas from Black Dog and Santa Too! - Write a letter to Santa (and he'll respond!), games & puzzles, stories, recipes, decorations, coloring books, postcards, and much, much more!
Mother's Home Christmas Activity Page - A fun collection of Christmas holiday related activities!
Rainbow Magic's Candy Cane Village - Come visit our magical village where each building has a new and exciting activity to explore.
Santa Believers Only - Click Here! - Lots of Santa, Mrs. Claus and Elf stories.
Santa Land Old Fashion Holiday Traditions - Christmas fun for the entire family - Kid's Korner (packed full of fun for the kids), Christmas Carols, Arts & Crafts, Holiday Recipes, Victorian Ornaments, Painted Tiles and Christmas Eve with Santa! (Track Santa on his journey through the North Pole!)
Santa's Christmas Page - A great Christmas site for kids of ALL ages! This site has it all. Be sure to mark this page as a favorite because you'll be back time and time again.
Santa's Secret Village - Enjoy the joy and magic of Christmas in Santa's Secret Village! We invite you to experience a traditional look at Christmas through the many free activities here at northpole.com. Write to Santa, read stories, enjoy Karaoke, send e-cards, find recipes, play games and puzzles, print stories to color—even put you or your child in a personalized story! Our stories and activities combine traditional feelings of Christmas goodwill with state-of-the-art computer technology—all richly illustrated with original artwork.
Squigly's Playhouse - Print a picture and colour it with your crayons. Choose a craft idea and get busy! Pick a holiday puzzle to print and solve. Cards you can send to your friends and family and fun things you can do without leaving the computer!
Teacher's Corner - Christmas crafts, pageants, recipes and lots of fun activities.
Celebrate Christmas with Crafts for Kids - If all you want for Christmas is to be able to try many unique craft ideas; find the perfect gift for everyone on your list; bake many tasty treats; decorate the house and yard to help spread the holiday cheer; spend quality time with family and friends; and have enough time to accomplish all of this - then you need to check out this site! Perhaps this collection of Christmas crafts, gift ideas, fun recipes, and more helps you to find exactly what you are looking for so you can have more time for all you want to accomplish!
The Kitchen Cooking and Crafts Webring - 'Tis the season to Deck The Halls and tempt friends and family with delicious holiday fare. You've found over 70 sites about Christmas Cooking & Christmas Crafts! Browse through and catch a bit of the Christmas spirit.
Valley Holiday Lights
Go to www.holidaylights@azcentral.com for a complete list of holiday lights in your neighborhood as well as a map and video tours of the valley.
COMMERCIAL LIGHTS
Arizona Celebration of Lights, 21000 N. 75th Ave., Glendale. (623)362-3204.

City Lights at Arizona Center, Third and Van Buren streets, Phoenix. (602) 271-4000.

ZooLights, Phoenix Zoo, 455 N. Galvin Parkway, Phoenix. (602)273-1341.

Cowboy Christmas, Rawhide Wild West Town, 23023 N. Scottsdale Road, Scottsdale. (480) 502-5600.

Garden Grove Lights Spectacular, Moon Valley Nurseries, 14225 N. Seventh St., Phoenix. (602) 942-7313.

Holiday Lights, Fordyce Flowers and Gifts, 15215 N. Cave Creek Road, Phoenix. (602) 992-4710.

Holiday Lights 85253. Scottsdale Plaza Resort, 7200 N. Scottsdale Road, Scottsdale. (480) 948-5000.

Holiday Lights, Heritage and Science Park, Seventh and Washington streets, Phoenix. (602) 262-5029.

Holiday Lights, Westin Kierland Resort & Spa, 6902 E. Greenway Parkway, Phoenix.

Kierland Commons, Greenway Parkway and Scottsdale Road, Phoenix. (480) 348-1577.

Michael A. Pollack Real Estate Investments, 1136 W. Baseline Road, Mesa.

Temple Garden Christmas, LDS Temple, 525 E. Main St., Mesa. (480) 964-7164.

Val Vista Lakes Community Association, Val Vista Lakes Clubhouse, 1600 E. Lakeside Drive, Gilbert. (480) 926-9694.

Advent lighting, St. Timothy's, 1730 W. Guadalupe Road, Mesa. (480) 775-5200.

Holiday Windmill Lights, Power Ranch, Power and Queen Creek Roads, Gilbert. Free. (480) 988-1915.

Las Noches de Las Luminarias 2003, Desert Botanical Garden, 1201 N. Galvin Parkway, Phoenix. (480) 941-1225 or (480) 481-8188.

Holiday Lights, McCormick-Stillman Railroad Park, 7301 E. Indian Bend Road, Scottsdale. (480) 312-2312.

APS Fantasy of Lights, Mill Avenue between Rio Salado Parkway and University Drive in downtown Tempe. (480) 967-4877 or

www.downtowntempe.com

.

Ahwatukee Festival of Lights, Chandler Blvd. between 24th St. and Desert Foothills Parkway (480) 460-6169.
ELSEWHERE IN ARIZONA
Safford's Light Parade, On Main Street. 1-888-837-1841.

13th Annual Sedona Red Rock Fantasy, Los Abrigados Resort, 160 Portal Lane, Sedona.

www.RedRockFantasy.com

1-(928)-282-1777 or 1-800-418-6499.

Valley of Lights, Fain Park, Arizona 69 at Prescott East Highway, Prescott Valley.

Christmas Dreams Parade of Lights, Historic Navajo County Courthouse, Arizona Street and Navajo Boulevard, Holbrook. 1-800-524-2459.

Prescott Courthouse Lights, Courthouse Square, 120 S. Cortez St., Prescott. 1-800-266-7534.

Lake Havasu Festival of Lights, Under the London Bridge. 1-(928)-855-0888.