FLAG DAY

June 14th
Annin & Co. - Flag Etiquette - read the official U.S. code on flag etiquette.
Connecticut Society of the American Revolution: Flag Etiquette - tips on how to display the flag, when to let it fly, and how to respect it properly.
Displaying the Flag - graphics showing how to hang the flag in times of mourning, outdoors, or indoors.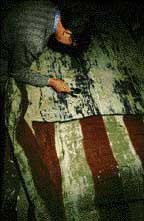 Facts About the United States Flag - brief list of facts and historical changes to the U.S. Flag. From the Smithsonian.
Flag Education & Etiquette - information on how to care for and respect the American Flag as well as some FAQs, from the American Legion.
Flag of the United States of America - this great, in-depth site has information on the history of the flag, writings about the flag, flag facts, and lots more.
Flags of United States of America - see the current flag, learn the significance of its colors, and read the history behind this country's previous flags.
Suncatchers - U.S. Flag - make a flag using colorful, light-catching beads.
Flag Day (June 14) - find out what a traditional Flag Day in America is like and how it came to be.
Haskell by the Month: Flag Day - celebrate the stars and stripes with this student site.
History of Flag Day - learn how the idea for this day began back in 1885.
History of Flag Day, June 14th - learn about this holiday that began in 1885.
National Flag Day Foundation - find out how to participate in this group's annual Pause For The Pledge Of Allegiance. Includes bios of historic Americans, lyrics for patriotic songs, and more.
U.S. Flag - learn how this flag should be folded and read the Pledge of Allegiance while listening to a longer version. Also includes lyrics and midi music for God Bless the USA.
U.S. Flag Code (36 USC 10) - the guidelines on how to respect and display the American Flag.
USPS Flag Etiquette - offers etiquette for boats, yachts, and other sea-bearing vessels for displaying flags.