To find out where all the 4th of July holidays are being held throughout Arizona


There are many opportunities for you and your family to enjoy 4th of July fireworks celebrations this year. From picnics and concerts to rides all leading up to the exciting fireworks, there is no better day to enjoy with your family than 4th of July in Phoenix.
Chandler's 4th of July RC Cola Fireworks Spectacular

-

at Tumbleweed Park, on the Southwest corner of Germann & McQueen roads. (this is held at the same location as the Chandler Ostrich Festival). Fireworks are scheduled to start at 9:30 p.m.

What will happen? - Live music, classic cars, free kids' carnival, food, and of course, fireworks. There will also be a Cactus Bike "Push, Pull, Peddle Bike Parade" at 6 p.m. Register from June 18-July 3 at Cactus Bike locations or at Tumbleweed Park from 4-5:30 p.m. the day of the event.

What does it cost? - Admission is free. Parking is $5.

What else do I need to know? - Bring a canned food item to support the Chandler Christian Community Center Food Drive. Each item donated will receive one entry into a prize drawing. Bring blankets and lawn chairs to enjoy the show and fireworks from the grass. Expect a crowd. Call (480) 814-8553 for more information.

July 3rd, Red White and Boom! Fireworks - Besides the usual fireworks on July 4th, there is also a celebration occurring on the 3rd as well. The Red White and Boom! Fireworks festival will be held at Mountain Vista Park from 6- 10:30 pm, with fireworks starting at 9:30. It's free admission, and there will be food, beverages,and kidzone tickets for sale. The park is located at 48th and Knox. It is fun for the whole family!


Children's Parade on July 4th! - There will be a children's Independence Day parade happening on July 4th in the Mountain Park Ranch area. The parade will start at 8:15 am at the Foothills Baptist Church, and end at about 10:30 am at Thunderhill Park. The church location is 15450 S. 21st St. There will be festivities at the park after the parade ,with music, bounces, slides, etc. Info:(480)704-5000

Fabulous Phoenix Fourth - Held at the Steel Indian School Park, 300 E. Indian School Rd. in Phoenix (3rd Street and Indian School Road). July Fourth, 4 p.m. to 10 p.m. Fireworks are scheduled to start at 9:35 p.m. Country singer Phil Vassar will headline the event. Kids rides ($1 or $2 each ride), swimming pool, food court and sponsor fun zone. Of course, there will be lots of fireworks.

What does it cost? - Admission and parking are free.

What else do I need to know? - Bring blankets and lawn chairs to enjoy the show and fireworks from the grass. No alcohol. No pets. Expect large crowds. Call (602) 534-FEST for more information.

CBS 5 July 4th Tempe Town Lake Festival presented by Go Daddy.com - at Tempe Town Lake. Gates open at 4 pm. Event festivities include the Pure Fitness Hot Summer Nights stage featuring Arizona's best local bands, the family fest offering a free inflatable village, rides, rock climbing walls, water wars, relay races, magicians and more, the Arizona Republic Family Connection Section Splash Zone with water fun and games for the family, and food and beverage. The SRP 54th Annual Fireworks Spectacular begins at 9 p.m.

What does it cost? Children under 12 are free. Tickets at the door are $8 or 2 for $15. Advance tickets are available for $5.

What else do I need to know? Last year more than 50,000 people attended the festival. First come first serve on lawn seating. Blankets and portable chairs welcome. No pets. No food or coolers. No beverages other than water. No skates or bicycles.

Gilbert Old-Fashioned 4th of July Celebration - at the Mesquite High School, located at 500 South McQueen in Gilbert. Live entertainment, contests, games, kiddie rides, carnival rides, community exhibits, kids parade and the grand finale fireworks display. Food, refreshments and novelties are also available for purchase. Main Stage entertainment will kick off at 4:00 p.m. The top ten (10) finalists from the "Sing Your Way to Gilbert Days" talent contest will perform at 8:00 p.m. and nationally known performers, Pioneer Pepper and the Sunset Pioneers, the official balladeers of Gilbert, will perform.

What does it cost? - Admission is $3.00 per person, ages 6 and under free. No credit cards or checks. Food and rides cost extra. Parking is free.

What else do I need to know? - No alcohol. No smoking. No pets. The first 2,500 people through the admissions gates will receive gift bags containing valuable coupons and give-a-ways. Some bags will contain door prizes valued at $50 or more. There are several acres of grass for blankets and lawn chairs. If you bring a chair please keep it low. Expect difficulty parking after 6 p.m.

Mesa's 4th of July Celebration - Mesa Community College, Southern & Dobson. Gates open at 6 pm. Free children's rides and inflatables, food and drink available for purchase. Live music from 7 to 9 p.m. Fireworks will take place at approximately 9 p.m.

What does it cost? - $5 parking fee per car.



What else do I need to know? - No bags, backpacks, fanny-packs, coolers or alcoholic beverages will be allowed. Blankets, bottled water, and baby formula will be allowed.

All American Festival - at the Peoria Sports Complex, Mariners Practice Field, 16101 N. 83rd Ave. Gates open at 5 pm. Kids Zone, concessions, live music, fireworks (at about 9:15 p.m.) and more. Bring your bathing suit for free water-related activities.

What does it cost? - $5 for each person 13 and older. Free parking.

Glendale Hometown 4th of July Celebration - at the Glendale Community College, 59th Ave and Olive, with overflow seating north of the college in Sahuaro Ranch Park. GCC pool is open from 1-9 p.m. for free swimming, and all other activities at GCC stadium scheduled from 6-9 p.m.

What will happen? - Entertainment, water balloon games, food vendors and sponsor booths. Live country music and a Glendale Tug of War. Fireworks are scheduled for 8:40 p.m.

What does it cost? - Nothing. Nada. It's free. Free parking, too.

What else do I need to know? - No alcohol is allowed on GCC grounds. Bring blankets and/or lawn chairs to enjoy the fireworks. Only 5,000 parking spaces are located on or near the GCC campus. Get there early, and carpool.

Scottsdale Lights It Up/Rawhide 4th of July - at Rawhide Wildwest Town - 23023 N Scottsdale Rd, Scottsdale, AZ, 85255. Events begin at 6 pm. Since 1971, the local Jaycees have taken control of Fourth of July fun in Scottsdale. With proceeds benefiting local charities, it's a win for everyone who comes out to celebrate America's freedom. When you add the built-in Old West entertainment of Rawhide, this is one down-home, all-American good time for the whole family. Plan to arrive when they open, so you can take in the gunfights, stunt shows, stagecoach rides, gold panning and frontier town shopping before you head into the holiday celebration.

A giant family barbecue has games and entertainment for all ages, and live music plays throughout the evening, including a performance by the Jester Drum and Bugle Corps. The Kids Zone lets little ones blow off some steam with games and races, working up an appetite for free slices of watermelon. A military flyover also is scheduled. After a belt-busting dinner of barbecued burgers, chicken and hot dogs with all the fixin's, watch the sun dip below the horizon and prepare for the sky show. A sky show and more, that is -- both ground and aerial fireworks displays ensure that you'll be looking in all directions, waiting for the next explosion to elicit those oohs and ahhs.

4th of July Coloring - And links to many other printables as well as classroom activities for teachers.
4th of July for Kids and Teachers - Coloring activities, graphics, clipart, crafts, songs and poems.
4th of July Jubilee - Arts and Crafts, Games and Activities, Animated Post Cards, Clipart and Stationary, Resources for Parents and Educators, Recipe fun and links to other great 4th of July sites.
4th of July Online and Printable Games - Patriotic Jigsaw Puzzles: Patriotic Jigsaw Puzzles made with Victorian graphics. Use your mouse to drag the puzzle pieces into their correct places. Celebrate the 4th of July online with games, jigsaw puzzles, word puzzles, virtual fireworks, and printable coloring pages.
A Capitol Fourth - create your own Shockwave fireworks display, read up on the holiday's history, and learn about patriotic songs of the century, from PBS.


Activities and Crafts for July 4th - celebrate the Fourth of July by making a pinwheel, printing out a flag, or making your own fireworks out of construction paper!
Annie's 4th of July Page - In the United States, Independence Day is celebrated on July 4th. On that day in 1776, the Continental Congress adopted the Declaration of Independence. Click here to find out more about the 4th of July.
Billy Bear's 4th of July - Coloring books, clip art, postcards, paper dolls, stationary and more.
Declaration of Independence - complete text with signers.
DLTK's 4th of July Page - Coloring pages, crafts, printables, recipes and other 4th of July links.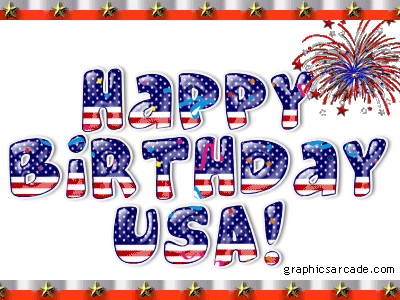 Fireworks Safety Tips - Fireworks Safety Activity Book (Fun games & Activities)
Fireworks: The Science Behind the Spectacle - let a ThinkQuest team teach you what they know about the chemistry and physics of fireworks. You can also read about how fireworks are made!

Fourth of July at PrimaryGames.com - pictures and stationery to print and color, plus musical postcards to send.

Free 4th of July ecards - (From 123 Greetings.com) Lots of fun holiday cards to choose from as well as links to other ecard sites.
Fun and Games for the 4th - Patriotic water balloon toss, Uncle Sam dress up relay and much, much more!
Happy 4th of July from Amon Party Collections for Children - Lots of games from their special holiday collection which you're invited to download, print and have fun!
Happy Birthday America - a fun Fourth of July site with pictures, history quizzes and fireworks information for your home state.
Independence Day - learn the history behind the 4th of July and why we celebrate it.
Independence Day Activities
Independence Day (July 4) - find out how this holiday started and why it's celebrated on July 4. Includes the history of fireworks and the patriotic songs "Yankee Doodle" and "America the Beautiful."
Independence Day History - read how and why this holiday became an American tradition.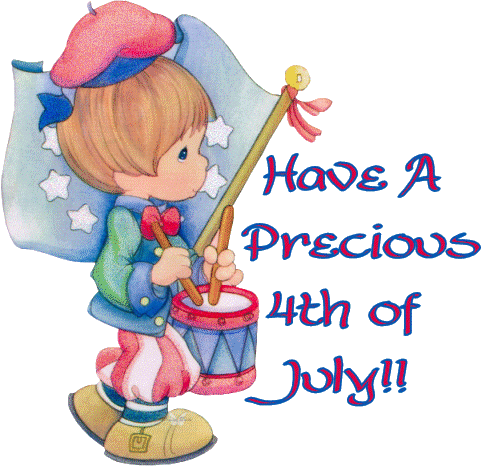 July 4th Clipart - Free for personal use. Feel free to change colors or use part of an image.

July 4th Clipart - Here's our free collection of Patriotic Clip Art. Some have been colorized (and cleaned up) by us from black and white clip art we've found at various free sources. Most are optimized to be small in download size with transparent backgrounds, so you can use them on any color pages.
July Holidays - info, activities, and recipe ideas for America's Independence Day and France's Bastille Day.
Kid's Domain - 4th of July - While this area is designed primarily for celebrating the 4th of July, many of the materials can be used for other USA Patriotic times. Enjoy activities, clip art, history of the holiday, games, and more at this fun site.
Fireworks Safety.com - safety tips for fireworks. Take a quiz to make sure you are safety conscious.
Online Games - Fun for the 4th of July - make some fireworks, learn about the road to revolution, or test your knowledge of the good ol USA.

Pitter Patter Craft Library - The Rockets Red Glare, the Patriotic Pot, Pinwheels and lots more!
Presidents on the Fourth of July - read about what each U.S. president was doing on the Fourth of July while he was in office.
Rainbow Magic: Fourth of July - Independence Day fun for kids of all ages including stories, puzzles, and games.

Schoolhouse Rock - Fireworks - lyrics, sound, and video of this SchoolHouse Rock cartoon which talks about the writing of the Declaration of Independence.

Stationary Art Projects for Kids - Art can be created with many different media or materials. For example, you could make art projects with paint, clay, wood, plastic, or even items that you find in the yard! The resources at Stationary Art Projects for Kids has all sorts year around projects that will give you some ideas on what to do and how to get started.
Today in History: July 4 - learn about the history of this holiday and see pictures and documents from the Library of Congress.
USA.gov Made Easy - The Fourth of July, or Independence Day, is a federal holiday that celebrates the adoption of the Declaration of the Independence on July 4th, 1776. At USA.gov, they celebrate by providing you with information on firework safety, laws and celebrations; facts about the history of this great holiday and a variety of holiday tips to make your 4th of July a fun day for the entire family.
Fireworks
Safety Tips
Echoes Of The Heart
We gather 'round to celebrate
On Independence Day
Pay homage to our country
As the children run and play.
With barbecues and picnics
And fireworks in the air
The flag we own is proudly flown
To show how much we care.
The stars and stripes spell freedom
She waves upon the breeze
While bursts of colors can be seen
Above the towering trees.
This is all quite wonderful
We revel in delight
But God above in divine love
Has brought this day to light.
With just a stroke of liberty
A touch of His great hand
He gave democracy to us
And helped this country stand.
The stripes upon our stately flag
Were touched by His sweet grace
Each star of white that shines so bright
Reflects His loving face.
So as you turn to face the flag
For battles that were fought
Be filled with pride for those who died
And freedoms that were bought.
But don't forget to thank the One
Who gives the bright display
The reason why we paint the sky
On Independence Day
Author/Written By:
Marilyn Ferguson